By Seb Harrington October 3, 2014
Barnstormers recently took part in the 'Love Patcham' festival where churches from the surrounding area united to put on a festival of music, acting and fun.
Barnstormers were asked by the event organisers to perform a section of their upcoming show "Barnstormers Does Broadway", which they did to critical acclaim.
Barnstomers kitted out in their newly purchased light blue t-shirts took to the stage and wowed the crowds with soaring harmonies, in the form of a medley of Andrew Lloyd Webber songs.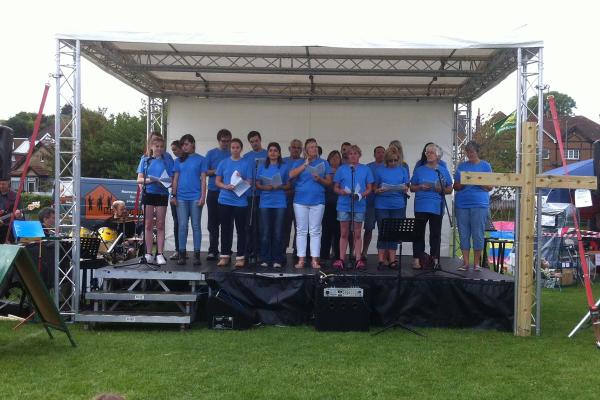 Photo Courtesy of The Argus
Caroline Lucas said (MP) "Fantastic" … "Hoping it becomes an annual event from now on.". Of course we have since made contact with the member of parliament letting her know that the Barnstormers shows are a bi-yearly event.
If you missed out on hearing Barnstormers at the Love Patcham festival, fear not! There are still opportunities to get hold of some tickets to Barnstormers Does Broadway and experience the medley and many other Broadway classics for yourself.
The Argus article can be found here: [http://www.theargus.co.uk/news/11506541.Churches_in_Patcham_unite_to_run_their_first_free_community_festival_enjoyed_by_hundreds/?ref=erec]